Xing Hu
Xing HU is a partner, in charge of the firm's Criminal Practice. She also specializes in International Commercial and Civil Law. After graduating with a bachelor degree in law from Xiamen University, Xing pursued her studies in France and holds a master's degree in International Law from Pantheon Assas Paris II, and a master's degree in International Commercial Law from Nanterre Paris-X. She passed the China Bar Examination in 2010.
Conferences – Evitons La Case Prison!
La responsabilité civile et pénale des étrangers en Chine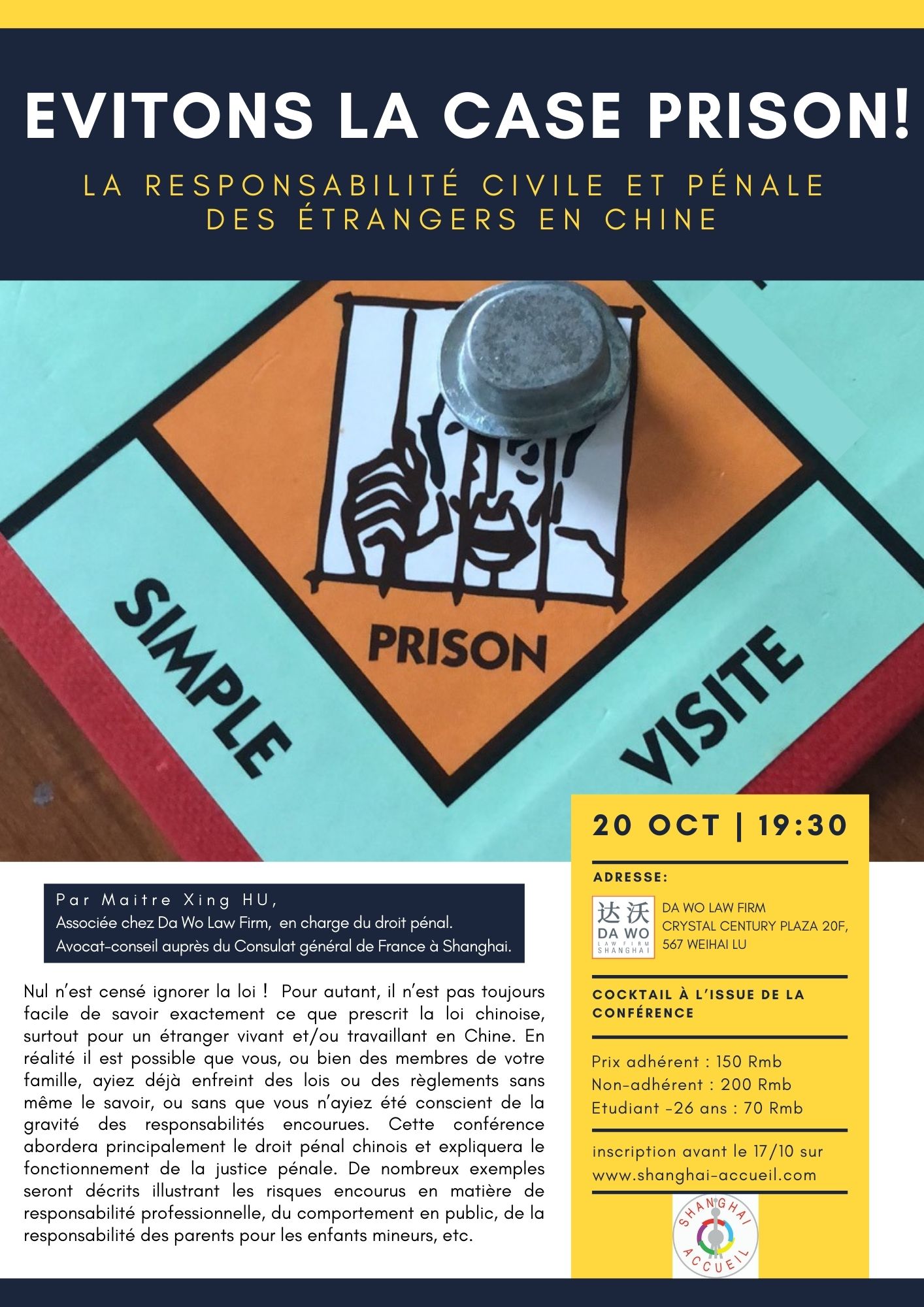 La responsabilité civile et pénale des étrangers en Chine
Nul n'est censé ignorer la loi ! Pour autant, il n'est pas toujours facile de savoir exactement ce que prescrit la loi chinoise, surtout pour un étranger vivant et/ou travaillant en Chine. En réalité il est possible que vous, ou bien des membres de votre famille, ayiez déjà enfreint des lois ou des règlements sans même le savoir, ou sans que vous n'ayiez été conscient de la gravité des responsabilités encourues. Cette conférence abordera principalement le droit pénal chinois et expliquera le fonctionnement de la justice pénale. De nombreux exemples seront décrits illustrant les risques encourus en matière de responsabilité professionnelle, du comportement en public, de la responsabilité des parents pour les enfants mineurs, etc.
Cette conférence sera donnée par Me Xing HU. Elle est associée chez Da Wo Law Firm, en charge du droit pénal. Elle est également avocat-conseil auprès du Consulat général de France à Shanghai.
Cliquez ici pour vous inscrire: CONFERENCES – EVITONS LA CASE PRISON ! – Shanghai Accueil, réseau FIAFE (shanghai-accueil.com)