Carmen Bakas
Carmen is an international corporate lawyer with over 25 years of legal practice in Amsterdam, London, Singapore, Mumbai and Houston. She holds a double master's degree of law from Leiden University, The Netherlands, and is qualified as a Dutch lawyer.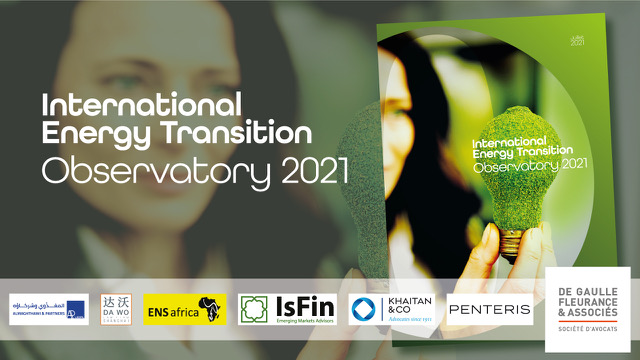 We are glad to announce the release of this new observatory proudly written in collaboration with five law firms (AlMaghthawi & Partners, DaWo Law Firm Shangai, ENSafrica, Khaitan & Co and Penteris) and ISFIN.
"With our partners, we wanted to share our companies' expertise and provide useful input to the public debate on the challenge of the century: energy transition, one of the main levers to curbing global warming," explain Louis de Gaulle and Henri-Nicolas Fleurance, co-founder.
"The Observatory shows that all countries share the objective of developing their renewable energies. Public policies, regulations and judges play a key role in achieving this goal."
Enjoy the reading :New International Energy Transition Observatory-DaWo
International Energy Transition Observatory 2021 Focus on China: +8,4 %, this is the annual growth in renewable energy production in China in 2020.
"China is on track to become a global leader in terms of total wind and solar facilities, as well as the number of wind and solar facilities built each year," explains Carmen Bakas, law professor and of counsel at DaWo Law Firm Shanghai.
6 key figures
75%.
This represents the South African share of the global platinum reserves (essential to the electrolysis process leading to green hydrogen production).
650 tonnes.
This is the volume of green hydrogen that will be produced every day in Saudi Arabia, upon completion of the first and unique ambitious project of this type in the Kingdom. An amount enough to supply 20,000 buses and air product.
+8,4 %.
This is the annual growth in renewable energy production in China in 2020.
58%.
This is the share of court decisions favourable to wind projects in France in 2020 (down by 8 points compared to the last 5 years).
1.99 Rupees.
This is the very low renewable energy rate in India which has been divided by 6 over the course of 10 years.
1.5 to 2 km.
This is the regulatory distance between a wind turbine and another establishment in Poland, a constraint that hinders their development.
Sylvie Perrin, Gaia Witz, Zeyn Bhyat, Fatimah Zahran, Mohammed Magrabi, Yara Alsaiedi, Carmen Bakas, Dibyanshu Sinha, Jean Muller, Andrzej Tokaj
#EnergyTransition #energy #sustainable #sustainableenergy #international
#SouthAfrica #SaudiArabia, #China #France #India #Poland.
#LegalStepToChange